Alan S Gray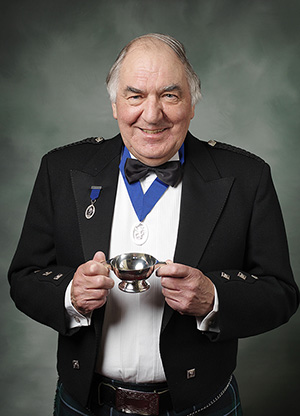 We, at Pagoda Scotland, would like to take this opportunity to pay tribute to our friend and colleague Alan Gray who sadly passed away on the 20th of February 2020. He will be truly missed by his many friends in the Whisky industry and we pass on our condolences to his wife Margaret, his three sons Barry, Colin and David, his brother Jim and the wider family which includes six grandchildren.
Alan was born in Lanark on 22nd December 1939 and grew up in Forth, South Lanarkshire. He attended Forth Primary and later Lanark Grammar where his intelligence and sporting abilities were clearly evident. He went on to qualify as a Chartered Accountant before moving to financial journalism with the Glasgow Herald and then stockbroking with a number of different companies in Glasgow and Edinburgh.
Alan's career in stockbroking began by researching the drinks sector and he soon became an analyst specialising in the Scotch Whisky industry. Utilising his experience in accountancy and journalism Alan started compiling reports based on his research. In time, this would become a monthly newsletter service and also an annual publication, 'The Scotch Whisky Industry Review' which became the leading authority on the financial and wider aspects of the industry. Alan went on to produce forty-two editions of the publication.
Over the years Alan was a regular guest in the media, commenting on industry developments and future industry plans, and a welcome presence at Whisky industry events. A first business visit to Islay in 1979 galvanised his interest in the Scotch Whisky industry and he continued to visit the island regularly with Margaret, family and friends for many years, most recently in October 2019. Alan made many lasting friends on Islay and he was very much loved on the island.
Alan was recognised for outstanding achievement for his work, and for the promotion of Scotch Whisky worldwide, by firstly becoming a "Keeper of the Quaich" and subsequently a "Master of the Quaich."
Outside of his working life, Alan was also widely respected in his local community, playing an active part in civic life, including taking on the role, for many years, of Secretary of the Hillhouse and Earnock Community Council in Hamilton where he lived.

On a personal note, I know from the many communications that I have had with so many different people both in, and related to, the Scotch Whisky industry, that Alan was held in incredibly high regard. He was a true gentleman who will be greatly missed by all who knew him.

Alan Gordon, March 2020